2017 Seminar Wiet van Helmond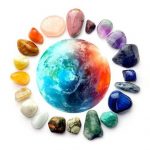 Gemstones: Flowers of the Earth
Wiet van Helmond's recent seminar on Gemstones, Flowers of the Earth, is now a downloadable recording! It includes the Powerpoint Wiet prepared. This is a fabulous introduction to new and old remedies–some will surprise you–and the key features that will guide you in their prescription.
GEMSTONES: Gems and precious stones have fascinated people from earliest times, adorning royal clothes and symbols, and used in healing throughout many cultures and traditions. In our current age, when everyone seeks to develop their own unique individuality as much as possible, we are surrounding ourselves more and more with gemstones. This is no co-incidence because the energies of many gemstones help us to be ourselves.
These 'underground flowers' help us to develop our hidden talents so that we can escape from the roles our way of life or ancestry has forced on us. Because this large class of remedies is not well represented in the repertories, on the first day we will first look at them from a very wide perspective before diving deeper into several of them, such as amethyst, ametrine, emerald, opal, moonstone, rose quartz, etc. Emphasizing those gemstones which are not much written about yet but which we will meet in our practices.
Wiet is a generous and dynamic teacher. His deep study, and his life-long experience of homeopathy give him a remarkable insight into the dynamics of the homeopathic process, and all this he conveys with great clarity, enthusiasm and humor. His two-part workshop this Fall on the Gemstones and on Lyme Disease was excellent.
Drawing from his own casework, from art, music and literature, from the cultural and political climate of our time, Wiet paints a portrait of a remedy, or a disease state, distilled to its essence. Very worthwhile and I highly recommend.
—Kathy Schermerhorn
Wiet was raised on homeopathy and natural ways of healing; thus when he declared at age six that he wanted to be a doctor, he meant, a homeopath. During his extensive 6 year training in the Netherlands, he also studies dietetics, herbalism and auriculotherapy. He loves to gain wider perspectives and gain deeper insights and follows many great teachers in a wide variety of disciplines including art, history, psychology, astrology, family constellations, theology, hypnotherapy, etc., He looks far and wide for anything that can help him to have the broadest possibly perspective of an issue, always open to hearing and seeing new ways of thinking and doing.
Wiet started his practice 20 years ago and began lecturing in the Netherlands and surrounding countries in 2002. He is a popular teacher in Europe and states: "In my teaching I like to start with the bigger picture and then zoom in to the more detailed level. Often somewhere in between the students start to develop insights and by the time we get to the very detailed level, students will know where to go for solutions, i.e. which remedies to choose and what recommendations to make."
Wiet has frequently published articles in the homeopathic journals and has participated and supervised over 20 homeopathic provings.
Sample Cases here
See also Lyme Disease Seminar