Peter Tumminello: Psyche and Structure
Oct 11th- 13th, 2019 (optional field trip, Oct. 14)
Location: Corte Madera, CA at the Corte Madera Inn
Seminar may also be taken via live webinar
Register Now or email oonaghtaeger@gmail.com for additional information.
Peter will share his deep understanding of crystal structures, a powerful key to unlock prescriptions to the vast array of mineral remedies. Peter's experience in crystal structure is the fruit of decades of work proving new gemstone and crystal remedies, and ten years of research into the commonalities of the 7 basic crystal structures, plus the 8th structureless state, that form all minerals. It is a rich complement to the work of Sankaran, Scholten and Welte. This seminar is an exposition of the material presented in Peter's recent book, Psyche and Structure, and builds on his previous book, Twelve Jewels.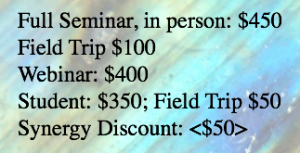 This will be Peter's only seminar in the Americas in 2019!
Special discount for Synergy users registering now till Aug. 31st! You will receive $50 off, for either seminar or webinar. Student rates are also available. Register Now
Reflections: Understanding your own structure.
As homeopathic practitioners, the case most vital to our practice may be our own. As part of the seminar we will be using various techniques and reflective tools to arrive at understanding our own fundamental structure. For those who are willing to share elements of the own cases, Peter will open a structural analysis to all participants.
Optional fourth day: Field trip and proving
Seminar participants will accompany Peter to a serpentine outcropping high on beautiful Mt. Tamalpais in Marin, where we will conduct a group proving. We will then descend to Rodeo Beach, where Peter will discuss the semi-precious gems found in the pebbles there, including agate, red and green jaspers, and carnelian.
Peter Tumminello, ND, DBM, Adv. DHom, FGAA has been in full-time homeopathic practice in Sydney, Australia for over 30 years. He is the author of six books, including Twelve Jewels, a groundbreaking contribution to the material medica of gems, along with its addendum volume, Rose Quartz: Garden of the Heart. As part of his decades of research into gems, Peter qualified as a gemologist in 2010. He has conducted seminars in the UK, Europe, USA, South Africa and Australia.
FREE 90 min. introductory video to Peter's work available upon request. To receive the link, please email oonaghtaeger@gmail.com with "PT Intro" in the subject line.
You can also see a quick 2-minute video excerpt HERE.
Alternate Accommodations for Peter Tumminello Seminar